Borders to Edinburgh railway: safety pledge on winter works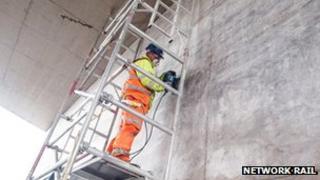 Network Rail has said safety is its "number one priority" during works on the Borders to Edinburgh railway over the winter months.
There has been criticism of the amount of mud and other debris being left on roads along the route.
Network Rail said it was working with main contractor BAM Nuttall to tackle the "challenges" of winter conditions.
It said although there would be less HGVs in operation it would be "working hard" to keep roads like the A7 clear.
There have been regular complaints about the condition of roads in the area since work started to reopen a rail link between the Borders and Edinburgh.
In response, 11 road sweepers have been in operation and wheel washing facilities introduced.
Network Rail added that its project team had been liaising with Midlothian Council, Scottish Borders Council and Police Scotland to ensure roads were kept safe during winter.
Construction on the line will shut down over the Christmas period from 20 December to 6 January.
Network Rail Project Director Hugh Wark said: "Winter weather generally brings more difficult conditions and we are deliberately scaling back major earthworks as poor weather approaches.
"However, to maintain productivity our focus has shifted to the structures along the route.
"Although this phase of the project will result in less HGVs on the road, there will still be plant machinery in operation and we are working hard to keep the roads as clear as possible with road sweepers operating along the A7."
He said communication with councils and police should ensure any issues could be addressed quickly.
"This should ensure that road safety is maintained over the winter period," he said.
"Safety is our number one priority.
"If residents wish to have more information, please do not hesitate to get in touch with the project team."
Work should be completed on the Borders to Edinburgh railway by 2015.