Dumfries secondary school overhaul approval expected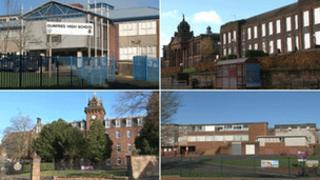 Final approval is expected later this week for a project to reshape secondary school provision in Dumfries.
It follows the unanimous support of education councillors for an "emerging option" for the town.
The plan would see new schools built at Maxwelltown High and Dumfries High and the refurbishment of St Joseph's College and Dumfries Academy.
It also involves the creation of a "learning hub" offering specialist higher academic and vocational studies.
Jeff Leaver, who chairs the education committee, described the cross-party support as a victory for teachers, parents and children who had opposed previous proposals for a so-called "super school" at the Crichton campus.
He called for the unanimous support of the full council on Thursday, saying it would allow them to take the project forward, and speak with one voice when seeking funding from the Scottish government.