Firefighters meet Dumfries family they saved 20 years ago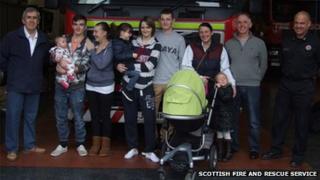 Firefighters who rescued four small children from a fire in a Dumfries home 20 years ago have returned to their old station to meet the family they saved.
Phillip Tate suffered 40% burns and spent seven months in hospital as a result of the fire in December 1993
His sister Emma had to be revived twice by paramedics at the scene and brothers Peter and Brian also had to be rescued.
Retired Station Officer Jim McQuat and firefighter David Dickson met some of the family members they saved.
Flames took hold within a bedroom of the Dumfries home on 30 December 1993, when one of the four Tate children - who were all under six years of age at the time - was playing with matches.
As mother Patsy ran to ask their next-door neighbours for help, the door to the house accidentally closed and locked behind her, trapping the children inside the burning building.
The neighbours, whose own son was an on-duty firefighter, immediately called 999 and crews made their way to the scene prepared for a difficult search and rescue operation to save the family.
Donning full breathing apparatus and forcing entry to the house, the firefighters found all four children and carried them from the house to paramedics standing ready outside.
Members of the Tate family, including Phillip, Emma and their own children - as well as now grandmother Patsy - were welcomed at Dumfries Fire Station by two of their rescuers and today's firefighters.
Phillip told Mr McQuat and Mr Dickson: "I would not be here today with my children and have the life I have now without you being there when you were needed."
The visit came about after Phillip saw a similar story on the Jeremy Kyle Show, which prompted him to get in touch with the Scottish Fire and Rescue Service.
Station Manager Colin Wallace said: "The heroic actions of the firefighters on duty that night prevented the deaths of four small children.
"They put their training into practice and demonstrated the courage and professionalism we all hope our families will never have to rely on."
'Deeply traumatic'
He said the last 20 years had seen the public become more aware of the risk of fire with more homes protected by working smoke alarms and fewer lives lost to fire.
Mr Wallace said it was vital people recognised the risks of fire and took action to prevent it.
He added that even if nobody was hurt it could prove a "deeply traumatic experience" especially when children were involved.
"I would like to extend my thanks to Phillip for getting in touch, and to him, Emma and Patsy for visiting the firefighters who were on duty that night," said Mr Wallace.
"It is great to see their family survived this horrendous experience and the children our community almost lost that night now have kids of their own.
"We need everyone to join Scotland's fight against fire and take action to protect themselves and those around them."
He urged anyone who wanted a home fire safety visit to contact the service at once.