Scotland weather: Flooding risk 'priority' pledge issued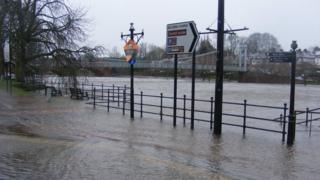 Environment Minister Paul Wheelhouse has said flood risk management is a "priority" after recent problems in areas such as Dumfries and Galloway.
He was responding to a question from Dumfriesshire Labour MSP Elaine Murray.
The festive period saw some of the worst flooding experienced in recent years across the region.
Mr Wheelhouse said £42m was available each year to tackle such problems and the Bellwin Scheme to deal with exceptional events had been activated.
Dumfries and Galloway was one of the areas hardest hit by recent flooding with residents of Kirkconnel, Carsphairn and Moniaive having to be evacuated.
One family was rescued by helicopter after their farm house beside the River Nith near Closeburn was cut off by rising water.
Just days later, coastal communities along the Solway bore the brunt of more severe flooding as high tides, storm surges and gale force winds combined to overwhelm sea defences.
Mr Wheelhouse said he had been to the Whitesands in Dumfries to see for himself the situation first hand.
He also visited the Police Scotland communications centre in Govan to see activity in response to the severe weather.
"In events of this nature, which sadly impact on Dumfries on a regular basis, preparation is key," he said.
"I was extremely impressed by how well prepared all the authorities were - aided by the timely and accurate flood forecasts from the Scottish flood forecasting service run by Sepa and the Met Office."
Ms Murray said Dumfries was the largest town in Scotland which suffered regularly from flooding but had no prevention scheme in place.
She said Dumfries and Galloway Council was now considering one but it would need £9m in funding and asked if it could receive any central support.
Mr Wheelhouse said: "I am aware that the council is in preparation of its flood protection scheme for the Whitesands area.
"It is looking to perhaps not eliminate all flood risks but to try and reduce to a reasonable level the level of flood risk that might affect the town centre."
He said he knew that was important for town regeneration.
'Steady programme'
He said Cosla and the Scottish government had a "pot" of £42m available to local authorities to bid for.
Ms Murray also asked if any plans were in place to extend the flood warning scheme to other areas and Mr Wheelhouse said there was a "steady programme" of expansion.
South of Scotland SNP MSP Aileen McLeod asked if there were plans to put areas like Newton Stewart and Minigaff onto the system.
Mr Wheelhouse said he was happy to ask Sepa to look at the situation along the River Cree to see what could be done.
"We are trying to do as much as we can to enhance the network of warning systems to give as detailed and as timely information to residents in Dumfries and Galloway and other regions as possible," he added.
The question was raised during topical questions which can be viewed, on demand, from 2.03pm at BBC Scotland's Democracy Live website.