Family plea over missing Annan man Ian Carruthers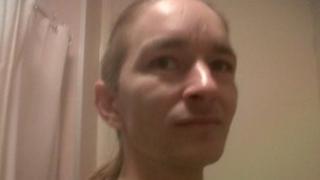 The family of an Annan man reported missing a week ago has issued a plea to try to help trace him.
Ian Carruthers, 30, was last seen at about 01:30 on Friday 17 January in the Longmeadow Avenue area of the town.
His sister, Tracy Kindness, said it was unlike her brother not to be in touch as he usually made daily contact with his family.
"His disappearance has brought so much distress to us all and we are very worried about him," she added.
"We are anxious for him to call us to make sure he is OK.
"If anyone has seen him or knows where he is please contact police.
"Any information at all might help to find him."
Ch Insp Steven Lowther said the response from the public in Annan had been "excellent" but he wanted to make a further appeal for help.
"Ian has a close group of friends and he has not been in touch with any of them over the past week, which is completely out of character," he said.
"He was to look after a friend's pets and didn't turn up, which is again not like him."
He said "extensive searches", including the use of a police helicopter, had met with a "negative result".
"Our inquiries will continue into the weekend, however, we would again ask local people to check their garages, sheds and outbuildings in case Mr Carruthers has taken shelter," he said.
"There is nothing to suggest that he has left the area but we cannot rule that out."
Anyone with information about the missing man has been urged to contact police or Crimestoppers.