Kenny MacAskill defends Dumfries police control room closure move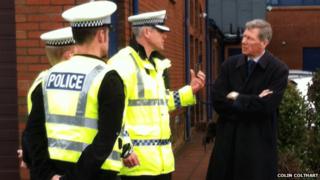 Justice Secretary Kenny MacAskill has defended plans by Police Scotland to cut the number of control rooms operated by the new national force.
He was speaking during a visit to V-Division headquarters in Dumfries, where 34 civilian posts would go.
Sites in Glasgow, Stirling, Glenrothes and Aberdeen are also being targeted.
Mr MacAskill said he felt for the staff affected but said the changes were needed to ensure the national force was both efficient and effective.
Staff affected by the proposals would be redeployed or offered voluntary severance.
"I feel sorry for anybody when their job disappears, that's something that we regret," said Mr MacAskill.
"It's for that reason that this government brought in a commitment of no compulsory redundancies.
"These things are done with a heavy heart."
However, he said they were done to ensure the "best possible police service" and meet "significant" financial challenges.
Mr MacAskill added that it would keep policing local and allow access to specialist resources in the "much more complicated world that we have in the 21st Century".
In Dumfries, a social media campaign has been launched calling for a rethink on the plans to close the control room.
'Shell-shocked'
Lynn Green, who is one of the civilian staff affected by the proposals, said some colleagues were in tears when the news broke late last week.
She said that there was little time to try to save at least some of the posts.
"We've all been absolutely shell-shocked, we've only got 10 weeks to try and do something to slow down the process or to get some public reaction," she said.
She said local knowledge was "invaluable" when there was an emergency.
"People probably won't realise until they've got an emergency and they're trying to describe where they are and they're talking to someone in Glasgow that hasn't a clue about the local area," she said.
"It is just going to delay the police response time."
Area Commander for V-Division, Supt Graeme Galloway rejected that claim.
"I don't think it will have a detrimental effect," he said.
"I feel sorry for the staff that are involved here.
"However, technology has moved on to such a degree that the likes of using GPS and things like that allow us to despatch our resources far better than we do just now."
The move - which will be considered by the Scottish Police Authority later this week - has been widely condemned in south west Scotland.
Dumfries and Galloway Council depute leader Brian Collins, of the SNP, described it as a "sickening loss" - both in terms of jobs and local knowledge.
MP Russell Brown accused the force of "dereliction of duty" in not exploring options to keep the centre open, while his Labour colleague, Dumfriesshire MSP Elaine Murray, said it was a further blow for public services in the region.
Lib Dem South of Scotland MSP Jim Hume said the closure plan threatened community safety.
Alex Fergusson, Conservative MSP for Galloway and West Dumfries, also described it as "highly regrettable" at a time when all local jobs were "at a premium".