Whithorn Trust secures Heritage Lottery Fund support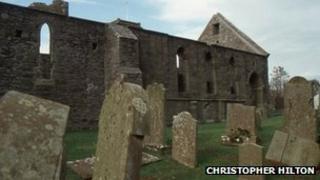 An organisation promoting the heritage and archaeology of Whithorn has secured a grant which will allow it to reopen its visitor centre and museum.
The Whithorn Trust - which runs the site - said last year it could be forced to close due to a lack of funds.
It has now secured a £39,000 grant from the Heritage Lottery Fund.
Trust treasurer Margaret Turner said the site, celebrating the town's role as the "cradle of Scottish Christianity", would reopen on 1 April.
The traditional date for St Ninian establishing his church, Candida Casa, at Whithorn is 397 AD.
He is generally credited as the first Christian missionary to Scotland, responsible for converting many Celts.
The visitor centre and museum chart the history of the town.
Ms Turner said the latest funding secured its short-term future and would allow it to reopen in April.
"We may not have the paid personnel in post at that date but we are hoping very much that we can get volunteers who will open it until we can appoint a transition fund manager and an assistant who will guide us through this process of making ourselves more sustainable," she said.
"The trust is one of the things that draws visitors to Whithorn.
"It is dependent on tourism so anything that draws people into the town is obviously beneficial to all of the businesses."