Star of Caledonia: Landmark benefit 'worth £16m' claim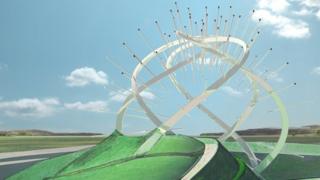 Research has claimed the Star of Caledonia public artwork to mark the Scotland-England border at Gretna could be worth £16m in its first year alone.
It is hoped construction on the project will begin next year.
Later this month, Dumfries and Galloway Council is to decide whether to match £1m support already secured from Creative Scotland.
The cost of the landmark, designed by Charles Jencks and Cecil Balmond, has been estimated at £4.8m.
An external assessment of its impact was carried out by BOP Consulting on behalf of Dumfries and Galloway Council and public art development company Wide Open.
Its key findings included:
£2m into the economy from construction (equal to 17 one-year jobs)
£4m-a-year from extra tourism (equal to 70 jobs)
£6m to £10m worth of national and international publicity in the first four months
£300,000-a year locally, and the same again Scotland-wide, from operational spending (equal to more than 10 jobs)
Dr Jan Hogarth, project director, said: "Great landmarks like the Angel of the North and the Star of Caledonia bring real benefits in terms of tourism, jobs and regeneration.
"The project will have a significant economic impact, creating the equivalent of 70 new permanent jobs for the region and attracting many more visitors.
"Dumfries and Galloway is doing a superb job of harnessing the power of the artistic and creative sectors to help revive our economy and create new opportunities for the future.
"The Star of Caledonia will not just be a landmark for Scotland, but a powerful symbol of the vitality of this region as a centre of artistic excellence."