Scottish Borders Council approves 'asymmetric' school week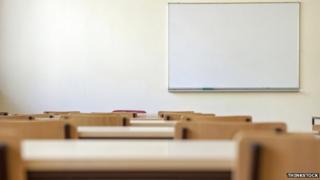 Scottish Borders Council has approved plans to move its schools to a four-and-a-half-day week.
A report said the case for the move was strong in both "educational and financial terms".
The local authority held a series of consultation meetings across the region to discuss the proposals.
Councillors approved the plan by 21 votes to eight with one abstention. It will now come into effect in August this year.
The proposal will see all the region's primary and secondary schools close at lunchtime on Fridays.
In order to achieve that, they will start earlier and finish later during the first four days of the week.
It aims to reduce staff costs and bring timetables into alignment.
The "asymmetric week" is also said to increase opportunities for e-learning and shared teaching.
'Careful planning'
However, a range of concerns about the proposals were raised during the consultation process.
"It is acknowledged that a move to a four-and-a-half-day school week will create issues and concerns for many parents, pupils and the wider community," a council report stated.
"These issues around childcare, school transport, ICT infrastructures and others will require careful planning and an element of redesign."
However, it concluded that the benefits outweighed any disadvantages.
"The council must plan for an education service that best serves the needs of all children and young people at a time when financial resources are going to reduce significantly," the report said.
"An asymmetric week will give the council the platform it requires to plan and implement transformational change in our schools."