Duns and North Berwick phone scam victims 'devastated'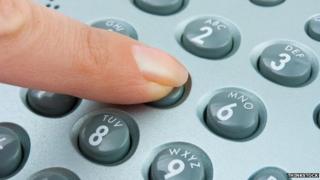 Police say a phone banking scam has taken "large sums of cash" from victims in the Borders and East Lothian.
They said the people targeted - in the Duns and North Berwick areas - had been left "devastated".
The victims were contacted by someone claiming to be from their bank's fraud unit about unusual account activity.
They were told to hang up and phone an emergency number but the bogus callers managed to keep the line open, then took down all their bank details.
The scam operates by convincing the victim that the original caller has hung up and they are making a fresh call to their bank.
However, the line is kept open and sound effects are used to simulate a dialling tone before transferring the caller to a fake bank agent.
The account holder then passes over all relevant personal details the culprits require.
Police said it had resulted in "large amounts of money" being transferred out of the allegedly "compromised" bank account.
Det Insp Dave Pinkney said: "It is very upsetting for victims when they lose significant sums of money as a result of telephone banking scams.
"If you think you have been subject to this type of call, do not immediately call back the number of your bank as requested by the caller.
"Our advice is to either contact the emergency number using a separate phone, or phone a person you know to check whether the line has been kept open before phoning the bank."
He urged anyone with information about the scams to contact police immediately.