Dumfries and Galloway police armed response rise explained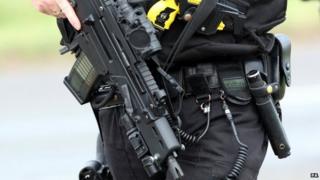 Police in south west Scotland have said the increased use of armed officers is due to having the resource more readily available.
Ch Supt Kate Thomson said Dumfries and Galloway had no armed response vehicles prior to the Police Scotland merger.
She said they had asked for the provision with the creation of the new national force on 1 April last year.
They now have the vehicles which she said were often initially sent to incidents in case they escalated.
Ch Supt Thomson was speaking shortly after the first anniversary of Dumfries and Galloway Constabulary's merger into Police Scotland.
She said the 12 months had passed quickly.
"I can hardly believe that a year has passed which will give you an idea of the speed of the change," she said.
"There have been difficult times because what you are trying to do is still deliver a policing response to our local communities and go through a lot of strategic change at the same time.
"It would be wrong of me to say it hasn't been challenging and it hasn't been, at times, quite frustrating as you try to balance all these.
"But I think we've got to the end of year one with surprising speed - from my perspective - but actually in a really positive way and I think we are starting to see the benefits of the changes that we have made."
'Contingency arrangements'
Ch Supt Thomson said one of the main advantages had been access to more specialist services.
"We didn't have armed response vehicles and that is one of the discussions we had at the beginning of Police Scotland that we would have our own armed response vehicles," she said.
"When you have got a resource you are more able to use it very quickly."
She stressed that in a lot of incidents they were initially called out to they would not need to be deployed as a firearms unit.
"But they are a resource that we want to head to an incident to make sure that we have contingency arrangements in place that if we need to put in further levels of protection for the public, and also the individuals involved, that we have that capability," she said.
"That's probably why it feels that we use it a lot more - because we have it and it's readily available."