Wanlockhead gold panner discovered human bones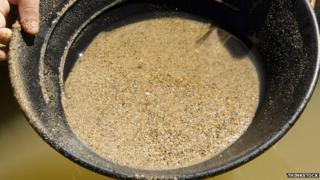 Police have been called out after a man found human bones while panning for gold in southern Scotland.
The incident happened in a burn near the village of Wanlockhead on Sunday.
A partial skull and femur were found and, after police sealed off the area, a third bone was found in the water.
All of the bones were confirmed as human and it is thought that floodwater may have washed them down from paupers' graves close to the nearby Meadowfoot cemetery.
The edge of the graveyard sits next to the burn and it is believed that the ground may have been eroded over the winter resulting in the bones being moved.