Dumfries stand-off taser use 'justified'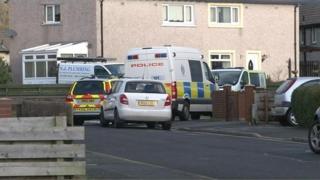 An investigation has found police in Dumfries were justified in using a taser to end an overnight stand-off.
A pyrotechnic distraction device - known as a PDD - was also used during the incident in February.
A 55-year-old man had locked himself into a bathroom with a knife and was threatening to harm himself.
The Police Investigations and Review Commissioner (Pirc) concluded the actions of officers had prevented "much more serious injury."
Police were called to the incident on Syme Road on the evening of Monday, 24 February.
At about 10:00 the following morning they gained entry to the bathroom and, after discharging the PDD and taser, the man was detained.
He was taken to hospital for treatment for an eye injury sustained during the incident.
The commissioner, Prof John McNeill said he was satisfied that police were "justified" in using the taser to control and disarm him.
On all occasions that Police Scotland use firearms, including tasers, they must refer the matter to the Pirc for independent investigation.
Prof McNeill said: "The police action ensured that the man did not fulfil his apparent intention to stab himself and prevented what could have been a much more serious injury."
Assistant Chief Constable Bernard Higgins of Police Scotland said: "Whilst it is regrettable that the man involved was injured during this incident the Pirc report makes it absolutely clear that our officers acted entirely appropriately.
"Indeed, the report also highlights that, had the officers not taken the action they did, then potentially the man could have suffered more severe injuries."
As a result of the stand-off, Dumfries man Brian Ross appeared in court and admitted behaving in an abusive manner and causing public resources to be used to ensure his safety.
He was fined £200.