Bernat Klein: Tribute paid to influential designer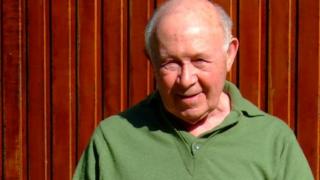 Tributes have been paid to the influential designer Bernat Klein who died recently in the Scottish Borders.
Prof Alison Harley, of Heriot-Watt University's School of Textiles and Design, said he "designed and produced some of the most beautiful textiles of the 20th century".
She added that it had been a "privilege to know" him as an honorary graduate.
The Royal Incorporation of Architects in Scotland said his influence went "well beyond Scotland".
Prof Harley said: "In the early days of his business and working out of basic surroundings, Klein had recognised the opportunity to open up the luxury market in post-war Britain.
"Building on his success Klein was able to buy his own mill for production, the High Mill now home to the Heriot-Watt School of Textiles and Design.
"The university archive also holds a collection of textiles produced by Klein that are still inspirational in their innovation and provenance."
The RIAS noted with "great sadness" the death of its 91-year-old honorary fellow.
RIAS President Iain Connelly said Mr Klein's links with the likes of Chanel, Dior, Pierre Cardin and Yves Saint Laurent had taken "Scottish fabric and design to the world".
Mr Connelly added that to architects, he was "revered as a brilliant client".
RIAS Secretary Neil Baxter described Mr Klein as an "adoptive Scot whose international influence as a textile designer cannot be underestimated".
"As an entrepreneur he helped revitalise the Borders' weaving and cloth manufacturing industries," he added.
He also praised Mr Klein's contribution in adding "splashes of brilliant colour and pattern" to the work of some of Scotland and Europe's leading modernist architects.
'Creative life'
"His own house, High Sundeland, near Selkirk and later his studio nearby, an almost sculptural composition of concrete, steel and glass set on a black brick plinth, were particularly successful client-architect collaborations," he said.
"Klein revelled in the opportunity to work on these masterpieces in three dimensions alongside his architect and close friend the hugely talented modernist architect Peter Womersley.
"Both buildings were celebrated in numerous journals and publications and are still regarded as among the most influential buildings in Scotland of their era."
He said Mr Klein had had "an extraordinarily full, long, creative life".
"He loved the country and particularly the rich Borders countryside which became his home," he said.
"His contributions to fashion, design, architecture, business and to Scotland's international reputation will be his enduring legacy.
"For those who knew him however the abiding memory will be of a modest, humorous, gentle man whose eyes sparkled with enthusiasm."