Borders General Hospital norovirus duration 'not unusual'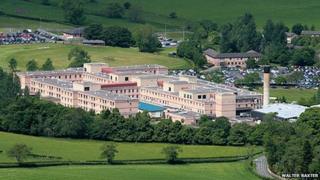 Health experts have said long-standing norovirus problems at the Borders General Hospital are "not unusual".
It comes after concerns were raised in the Scottish Parliament by MSP Christine Grahame.
She said she had first raised the issue in January and questioned the "great delay" in resolving it.
However, Dr Evonne Curran of Health Protection Scotland said NHS Borders was having an "average type" year while other areas were "exceptionally quiet".
The situation was brought to the attention of First Minister Alex Salmond last week.
Ms Grahame said she had concerns that problems with the sickness bug were persisting more than three months after she first became aware of the issue.
The involvement of Health Secretary Alex Neil was promised in talks to try to address the situation.
Dr Curran said the problems at the Borders General were not out of the ordinary.
"My understanding of the situation in NHS Borders is that there have been repeated introductions of the virus to the hospitals as a consequence of what is ongoing in the community," she said.
"This is not unusual.
"Norovirus is extremely infectious and there is little warning before patients become symptomatic.
"As a consequence if there is a lot of norovirus in the community then there will be multiple opportunities for outbreaks to arise in hospitals - even when all possible precautions are being taken."
She added that the BGH did not have a worse record than other hospitals in dealing with the bug during its "season" which runs from October to May.
"HPS undertakes weekly surveillance of wards closed due to norovirus," she said.
"This year has been exceptionally quiet for many boards although NHS Borders have had an average type year.
"But looking over the years of the norovirus surveillance there is no indication that NHS Borders is worse than any other board.
"It is more noticeable this year because other areas are quiet."
She said the situation probably reflected what was "going on in the community".
"NHS Borders will (as will all NHS boards) take part in an NHS Scotland-wide debrief when there will be an in-depth review of the the norovirus season and when preparation for season 2014-15 will begin," she said.
Among the steps already taken was the launch of the Stay at Home campaign last year.
It urges the public not to visit hospitals, care homes or go back to work until 48 hours after any norovirus symptoms have stopped.
Detailed guidance
"This message is important," said Dr Curran. "And it is also important to say the season is not over and people still need to heed this message."
HPS provides detailed guidance to hospitals of what measures to take in the event of any outbreak.
These include the likes of ward closures, avoiding transfers from affected areas and sending staff with the bug home with instructions not to return until 48 hours after they are clear of symptoms.
Hand hygiene measures, use of personal protective equipment and advice to the public to reduce visits and stay away if they have the bug are also advised.
An escalation plan is also available if these steps fail to eradicate the problem.
It includes consideration of new ward configurations, working with neighbouring NHS boards or even closing the entire hospital to all but essential visitors.
Full details of the measures to deal with norovirus are available online.