Reston station council support increased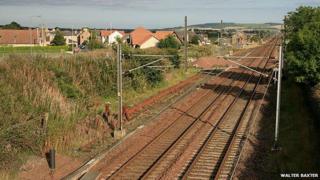 Scottish Borders Council has increased its financial commitment to reopening a railway station at Reston.
The authority had previously confirmed £300,000 towards the project but that has risen to £1.28m.
Council leader David Parker said rail accessibility was important for the "future social and economic well-being of east Berwickshire".
He said he believed the increase in the proposed level of funding could "only bode well for the station plans".
A study into a local rail service between Edinburgh and Berwick-Upon-Tweed was submitted to the Scottish government late last year.
It recommended establishing a service from Edinburgh to Dunbar and Berwick-upon-Tweed, together with new stations at East Linton and Reston.
'Outstrip costs'
Officials said it would increase access to rail travel throughout East Lothian and the Borders.
Scottish Borders councillor Gordon Edgar said the financial backing for the station was justified.
"The opportunity to finally secure a station at Reston, as well as East Linton, will have local and regional benefits for the area that far outstrip its costs," he said.
"It will improve the economy of the local area by making it more attractive to investors and tourism, it will provide access to a far wider jobs market and further education opportunities, and it will reduce the need to travel by road."