Dumfries museum Olympic gold medal raid appeal renewed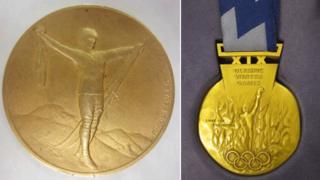 A fresh appeal for information has been made a week after Olympic gold medals - including one won by Rhona Martin - were stolen from Dumfries museum.
The total value of the goods taken at about 22:00 on Wednesday 30 April has been estimated at about £34,000.
The thieves targeted items in a special curling exhibition - including medals from the 1924 and 2002 Winter Olympics.
Three suspects were captured on CCTV running from the grounds of Dumfries Museum shortly after the raid.
They are said to have used extreme force to smash their way into the premises and were out again within a matter of minutes.
Carefully planned
One week on, police are continuing to follow up a number of lines of inquiry.
Investigating officers said the raid was carefully planned and executed.
They believe the thieves must have visited the museum prior to the break-in and remain keen to hear from anyone who saw people acting suspiciously in the days or weeks leading up the raid.
Ms Martin said she had been "absolutely devastated and gutted" by the theft.