Police lodge Dumfries agricultural show bar bid objection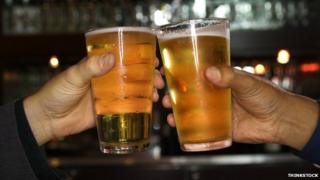 Police have lodged a formal objection to an application to operate two bars at the annual agricultural show in Dumfries.
It follows incidents of violence and anti-social behaviour at the end of last year's event.
Police have recommended both bars should shut at 16:30, half an hour before the show closes.
The licence applicant has suggested a range of other measures, including increasing the number of stewards.
The bar applications for the Park Farm show on 2 August will be considered, along with the police objection, later this week by the Nithsdale Licensing Board.
In his letter to the panel, Ch Insp John Thomson documents a list of alcohol-related disorder recorded at the close of last year's show including fighting in the public bar area.
Outside, a car was tipped on its side and another was damaged when a drunken reveller walked across its roof.
Alternative measures
There were also complaints from nearby residents about the behaviour of some of those leaving the showground.
While the event closed at 17:00, the bars were licensed to operate until 19:00 and Ch Insp Thomson said the first reports of trouble came at about 18:00.
He said that to reduce future disorder, it was recommended that both bar areas shut half an hour before the close of the show.
In his letter, the licence applicant, Douglas Drysdale accepted that a repeat of last year's events would be unacceptable.
However, he said restricting the operating hours was not the answer and has proposed a range of alternative measures including increasing the number of stewards from 12 to 18.