Dumfries wedding day horse carriage crash driver avoids ban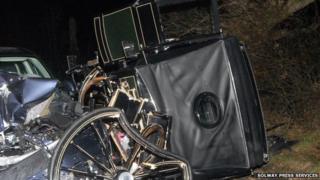 A motorist who crashed into the back of a wedding party's horse-drawn carriage has avoided a driving ban.
Four people, including the bride-to-be and her father, were injured in the accident on New Abbey Road outside Dumfries in December 2012.
Ein Kirkpatrick, 67, of Kirkbean, admitted driving carelessly.
Dumfries Sheriff Court heard the farm worker had a previously unblemished motoring record. He was given seven penalty points and fined £1,200.
The accident happened just a few hundred yards from the Mabie House Hotel where the groom and guests were waiting for the bridal party.
All four occupants of the carriage were taken to Dumfries Infirmary for treatment.
The bride was released and her wedding went ahead later in the day while her father remained in hospital along with the carriage driver and his daughter.