Da Vinci accused Marshall Ronald continues payout bid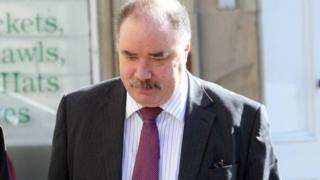 A man cleared of conspiring to extort £4.25m for the return of a Leonardo da Vinci painting has continued his bid to sue the Duke of Buccleuch.
Marshall Ronald, 57, is seeking the payout following the recovery of the Madonna of the Yarnwinder.
He told the Court of Session in Edinburgh he believed he was due £4.25m for the painting's return.
However, Andrew Young QC, for the duke, described the bid as "an attempt to extort a sum of money".
Mr Ronald, of Upholland, Lancashire, was acquitted with others of a conspiracy to extort money for the safe return of the masterpiece at a trial at the High Court in Edinburgh in 2010.
The valuable artwork had been stolen from the Duke of Buccleuch's Drumlanrig Castle seven years earlier.
After the court case, Mr Ronald raised an action claiming that he was due payment for the return of the painting which was recovered in 2007.
At first he was suing both the duke and the police but dropped his claim against the police last year.
'Lawful recovery'
He told the Court of Session he had acted in good faith in negotiating the painting's return.
"I don't accept any illegal acts," he said.
"I contend that a buyback is a lawful method of recovery."
Mr Young dismissed that claim and said: "Properly viewed, what the pursuer is averring here is an attempt to extort a sum of money."
Mr Ronald wants his action to go to a hearing of evidence while lawyers acting for the duke are seeking to have it dismissed.
He claims that following discussions with an undercover police officer, John Craig, it was agreed that the total sum to be paid for the return of the painting would be £4.25m.
He said that during those talks, the policeman claimed to be working for the duke and had his authority to enter into a legally binding agreement on his behalf.
But the duke's lawyers say the undercover policeman did not act for or negotiate for him and there was no contract with Mr Ronald.
Lord Glennie reserved his decision in the case following the hearing.