Dumfries and Galloway cold caller crime action stepped up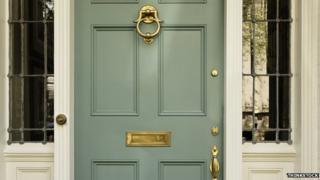 New guidelines are set to be introduced to help tackle doorstep crime across Dumfries and Galloway.
The council is being asked to back a policy on "no cold caller zones" to deter bogus workers, high-pressure sellers, fraudsters and thieves.
Over the past two years, seven pilot sites were established in residential areas to assess their effectiveness.
A more "evidence based" approach in selecting the zones is being advised as part of a new policy on the issue.
A trial across Dumfries and Galloway saw street signs and door stickers used to alert doorstep traders to the "no cold caller zones".
Residents said cold calling still occurred but they felt safer being part of the scheme and found it easier to say no to salespeople.
Set criteria
The trial areas were nominated by community police officers who identified streets they perceived to be at risk.
However, a different approach is being proposed as part of the new policy.
The guidelines have been developed by the local Doorstep Crime Partnership which involves police, trading standards and adult support and protection services.
All streets nominated to become a zone will be considered against set criteria.
The assessment will take into account recorded levels of doorstep crime in the area and whether the householders are elderly or vulnerable.
The zone itself will only be introduced where there is overwhelming support from the residents.