Local heroes take part in the Queen's Baton Relay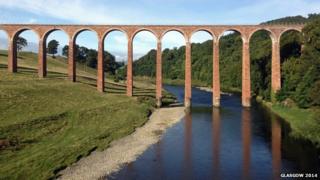 After a journey of more than 180,000km passing through more than 70 nations and territories the Queen's Baton has arrived in Scotland.
In the coming weeks, the baton will visit all 32 of Scotland's local authorities ahead of the opening ceremony of Glasgow's Commonwealth Games on 23 July.
In the Borders it will be carried through Duns, Greenlaw, Earlston, Melrose, Tweedbank, Selkirk, Kelso, Jedburgh and Hawick.
In Dumfries and Galloway it will pass through Langholm, Gretna, Eastriggs, Dumfries, Castle Douglas, Kirkcudbright, Newton Stewart and Stranraer.
BBC Scotland profiles a few of the baton bearers who have been chosen for their work in the community.
Maureen Virtue
Following a riding accident, Maureen suffered from a collapsed lung and then, at various stages in her recovery, overcame pleurisy bronchitis and pneumonia.
Despite this adversity, Maureen set up a social networking running group "Run for Fun" in 2012 which now has a community of more than 1000 members.
She consistently encourages and inspires runners at a variety levels whilst running her home business and managing to fit in marathons, ultras runs and hill races.
When asked how she felt about her nomination for being a runner in the Queen's Baton Relay she said:
"I'm absolutely thrilled to be chosen to carry the baton! I couldn't believe it, it's such an incredible honour and it's going to be an incredibly emotional day.
"I can't wait and I'm so thrilled to be running in Jedburgh. Can't wait to meet everyone!!
Ross Falconer
Ross Falconer will champion the work carried out by the staff at Yorkhill Children's hospital when he takes part in the Queen's Baton Relay.
The 14-year-old was born with a heart defect and fitted with a pacemaker when he was just five days old. Since then he has had the pacemaker replaced four times.
Despite this he has gone on to become an accomplished athlete who is an active member of the athletics club in his home town of Tweedbank.
The chance to carry the baton around the town's running course will mean he will be cheered on by 350 school children who are taking part in a special athletics day to mark the Queen's Baton Relay.
He said: "I am really excited and honoured to be part of the Queen's Baton relay.It will be really special carrying the Baton in Tweedbank which is my home town.
"I normally run the 200 metres on the track but I will be taking my time with the Baton!"
Jean McNab
Jean McNab has devoted years of her life coaching children in range of sports from football to hockey.
In a career full of achievements she cites coaching a local football team of primary school children to the finals at Hampden as being a highlight. "It was a dream come true for them to be able to run out at Hampden", she remembers.
The journey of the Queen's baton across the continents is something which carries a strong personal connection for her as she spent time volunteering at a African orphanage.
She said: "For me, the most amazing thought about the baton relay is the places it has been on its travels, and the hands that have held it so far on the way to Glasgow.
"It is wonderful to be part of that journey and feel part of the event that is linking all those people. So I am really looking forward to my tiny contribution to that huge journey."
David Boland
Popular sport coach David Boland is well known face in the Borders town of Melrose. The 44-year-old has enjoyed a successful sporting career in both rugby and cricket, being best known for captaining Melrose until he retired from playing in 2003. After he finished playing the game he continued to work as a coach for the club until 2007.
Mr Boland believes that the impact of the Commonwealth Games will benefit all of Scotland, not just Glasgow.
He said: "I think that the Commonwealth Games will help bring extra money all across the country, tourists will get the chance to explore different parts of Scotland."
Despite being a sporting veteran, he admits the chance to play his part in the Queen's Baton Relay is something that he is looking forward to.
"I'm excited, there will be a few butterflies when I take part...it's a great honour for me."
Thomas Goodman
Thomas is a lower limb amputee from St. Lucia. He has lived in Scotland since 2004 and the Borders since 2007. He is a playing member of St. Boswell's Cricket Club, and also coaches juniors.
Thanks to his enthusiasm and commitment the club have had two successful tours to St. Lucia, and the junior section (which was on the point of collapse) has gone from strength to strength.
When asked how he felt about taking part in the Queen's Baton Relay his answer was simply: "It's like being part of a big family."
Alan Stewart
Alan Stewart underwent a life-saving kidney transplant in 2009; since then he has been committed to raising awareness for organ donation through a number of sporting challenges from marathons and long-distance cycling events to open water swims.
Alan has also competed at three British Transplant Games, winning a significant number of medals.
Together with his wife Susan, Alan is set to complete 50 physical events challenges, spreading the word for organ donation through the Transplant Ambassador Team.
Despite an already impressive number of achievements he says that the chance to play his part in the Queen's Baton Relay is something which means a lot to him.
"Having the opportunity to be part of the QBR is a fantastic and unexpected honour which has come about as a result of receiving an organ donation four years ago. I cannot believe that both Susan and myself have been given this honour.
"We are both incredibly excited at our chance to be part of such a huge event like the Commonwealth Games."