Dumfries and Galloway landfill site solar deal sought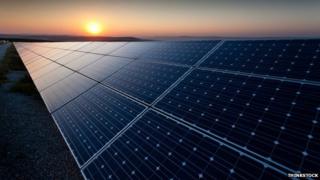 Negotiations which could lead to "solar energy farms" being built at former landfill sites in Dumfries and Galloway are due to get underway.
Council officials will hold talks with an investment company which specialises in renewable energy.
A council committee has already agreed that turning former waste landfill sites into solar energy farms is the preferred way forward.
En-Vest would meet the cost of installing solar panels at the sites.
It would also pay for the operation and maintenance of the facilities over 30 years.
Chairman of the council's economy, environment and infrastructure committee, Colin Smyth, said it was a "win-win situation" for the council and the taxpayer.
A range of potential uses had been investigated for the four former waste landfill sites across the region.
En-Vest's proposals - based on a 30-year lease - include a 9 megawatt (MW) scheme at the Lochar Moss site on the outskirts of Dumfries which would also supply power to the adjacent zero waste recycling park.
A second 2.3MW scheme would be developed at Corsehill near Annan.
If viable, two further solar energy "farms" could be created at former waste sites near Sanquhar and Whithorn.
All the developments would be subject to planning permission.