Borderlands consultation under way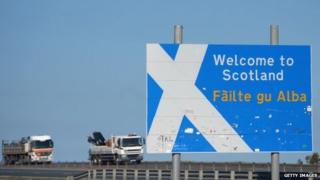 Westminster's Scottish Affairs Committee has launched a consultation on what it calls "the Borderlands of Scotland".
It is the area covered by Dumfries and Galloway and Scottish Borders Councils.
The committee said the region had been consistently overlooked and inadequately served by successive governments.
Initial research included visits to Dumfries, Galashiels and Peebles, which identified a series of issues.
It said many of those problems replicated those experienced by areas of the Highlands and Islands - but were also shared with the north of England.
These included higher levels of unemployment and underemployment, lower than average wages, higher transport costs, poorer infrastructure and lower levels of enterprise and economic development.
'Effective policies'
The inquiry said it would seek to examine two "central questions".
The first was whether current structures were working as effectively as they could for the benefit of the people of the south of Scotland.
The second was how UK and Scottish governments could work with local authorities to deliver "appropriate and effective policies to support economic development and growth in the south of Scotland".
Earlier this year senior members of councils on the Scotland-England border met at the first Borderlands Initiative summit.
It involved leaders from Scottish Borders, Dumfries and Galloway, Carlisle City, Cumbria and Northumberland councils.
They met in Peebles to discuss how to take forward "key economic opportunities" for their respective areas.
A Scottish government spokesperson said it was committed to "subsidiarity and local decision-making" and would consider any proposals from the local community about how decisions affected the people of the south of Scotland.
"An economically stronger Scotland would be a major boost for our close neighbours in the north of England and provide a counter balance to the economic draw of London," the spokesperson added.
"We are working with councils either side of the border as they build on the Borderlands summit held in Cardrona in April."