Kelsae Stane: £40,000 public artwork is unveiled in Kelso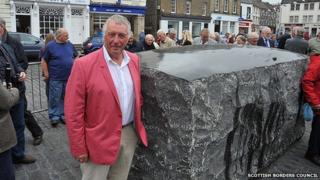 A major new piece of public artwork has been unveiled in Kelso.
The £40,000 giant cobble in Kelso Square has been carved by Maxton-based sculptor Jake Harvey.
The stone for the project was sourced from Mamallapuram in southern India and had been on site since February.
Mr Harvey asked local communities in and around Kelso to nominate a representative to handwrite their place name.
It was then enlarged and engraved on to the stone itself.
The finished piece, which was funded by Sainsbury's, "grows" out of the traditional cobbles in Kelso Square.
It was unveiled by 2014 Kelso Laddie Ross Henderson along with his henchmen and bussers.
Sculptor Jake Harvey said: "I have derived a great deal of pleasure from the process of conceiving and making a significant work that compliments Kelso's cobbled square and which represents an enduring embodiment of the town.
"The journey has been arduous and lengthy, but wonderfully inspiring.
"While working on site in Kelso Square, I've immensely enjoyed meeting and working with 220 local folk who were involved during the inscription phase."
Charlie Robertson, chairman of the Kelso Stakeholder Group, said the piece known as the Kelsae Stane was a "unique, original and timeless representation of the town".
The handwritten place names were provided by people of all ages, ranging from someone who had only just started writing, to a 101-year-old.