Wickerman Festival: Del Amitri and Utah Saints headline second night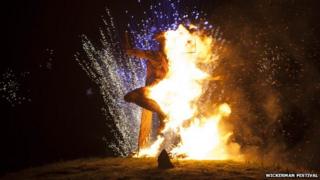 Del Amitri, the Feeling and Utah Saints were among the performers on the second and final night of the annual Wickerman Festival.
Other acts included Big Country, the Zombies and British Sea Power.
The final day culminated with the traditional burning of a giant wicker man.
Despite this being the 13th year of the festival, at East Kirkcarswell near Dundrennan, organisers described it as one of the "luckiest" to date.
Festival co-ordinator Helen Chalmers hailed good weather and a diverse range of acts, including the surprise inclusion of hip hop star Dizzee Rascal as Friday night's headliner.
Glasgow's Del Amitri were Saturday's headliners on the Summerisle stage and the festival also saw traditional Scottish music in the Lowland Links tent.
Following the burning of the festival's giant wicker figure and fireworks at midnight, Utah Saints took to the Summerisle stage for a DJ set lasting into the early hours of Sunday morning.
Ms Chalmers said: "Wickerman has delivered another brilliant festival in 2014, despite all the jokes about it being our 13th year."
She added: "The response to the music and entertainment on offer has been incredible, from Dizzee Rascal's incredible set on Friday night to the huge support we have seen for breakthrough Scottish acts in the Solus tent, right through to the rousing cheers for our traditional Scottish acts in the Lowland Links tent.
"The blazing sunshine and chilled-out atmosphere on site have also played their part, and our thanks go to our artists, our audience and everyone on site for making this another Wickerman Festival to remember."