Galloway Forest Park investment provides 'great boost'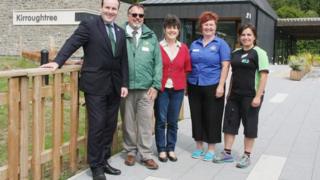 A multi-million pound investment in the Galloway Forest Park's new visitor centres has been described as a "great boost for the local economy" by the environment minister.
Forestry Commission Scotland has invested £4.5m in three sites.
It has built a brand new centre at Kirroughtree and upgraded facilities at Clatteringshaws and Glentrool.
Paul Wheelhouse said the park was a "beacon for tourists" and the visitor centres a "major draw".
He said: "It is currently estimated that Galloway Forest Park brings in around £11m to the local economy.
"With the opening of the new centres, we can expect this boost to the local economy to grow over the next few years."
Keith Muir, FCS recreation manager in Galloway, said it had been "working hard" to improve visitor facilities.
"The new and improved visitor centres are proving very popular and we are pleased to be working hand in hand with local businesses to boost forest tourism in Galloway," he said.