Scottish referendum: Strong 'No' votes in Borders and Dumfries and Galloway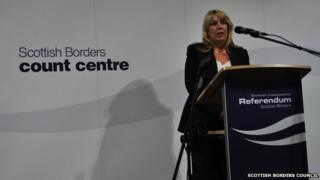 The Borders and Dumfries and Galloway have both delivered large majorities against independence for Scotland.
The first of the two south of Scotland results declared was at about 04:30 in Dumfries where the "No" vote won by 66% to 34% on a turnout of more than 87%.
About 20 minutes later, the Scottish Borders followed suit and rejected independence by 67% to 33% on a similar turnout.
In Scotland the overall outcome was about 55% for "No" and 45% for "Yes".
South of Scotland SNP MSP Aileen McLeod said she believed geography had played a key part in the outcome.
"We have to remember the close proximity to the border and that tends to magnify some of the concerns that were raised around cross-border issues that weren't maybe played out in the rest of the country," she said.
"But we have fought the most fantastic campaign and I think there should be a huge thank-you that should go out to each and every one of the campaigners on both the Yes side and the No side."
---
Giancarlo Rinaldi
South of Scotland reporter
There had been optimism in the Yes camp that they could make a real fight of it in the south of Scotland but, in the end, the outcome was more one-sided than they had hoped.
The vote was almost two to one against Scottish independence with an impressively high turnout - in line with the rest of the country.
Proximity to the border almost certainly played its part in a strong majority for No in both the Scottish Borders and Dumfries and Galloway.
That close relationship with England was summed up by one voter I overheard leaving a polling station in Dumfries.
"I cannae even understand why we're voting on this," he was telling a friend. "We've been friends with them for years."
And that was clearly a view of Scotland's relationship with the rest of the United Kingdom shared by many others in the south of the country.
---
Ettrick, Roxburgh and Berwickshire Conservative MSP John Lamont welcomed the outcome.
"I am absolutely delighted that Borderers, like their fellow Scots have overwhelmingly said 'No thanks' to separation," he said.
"The Borders have called for a change of culture, not a change of country."
Dumfries and Galloway Labour MP Russell Brown said the campaign had been a close one.
"This whole campaign has been a really tough battle," he admitted.
"There have been some deeply worrying moments from our side as to just could we actually make it, but we have had an emphatic victory."
South of Scotland Lib Dem MSP Jim Hume said people in the area had decided not to "walk away" from the UK.
"But voters have also sent a clear message that there is a strong appetite for more powers for the Scottish Parliament," he added.
"These are exciting times and this No vote is an opportunity for us to get on with delivering more powers inside the UK."