Wigtown Book Festival gets under way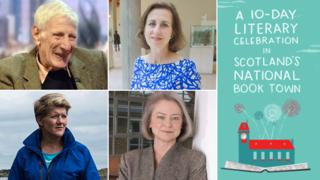 The annual literary festival is under way in Scotland's national book town - Wigtown in Dumfries and Galloway.
The 2014 programme includes the likes of Margaret Drabble, Jonathan Miller, Clare Balding, Kate Adie and Kirsty Wark.
In total, the festival features more than 175 events and runs from 26 September to 5 October.
An economic study last year estimated it generated an extra £2m for the local economy each year.
There were more than 7,500 visitors to the event in 2013, and more than half of them came from outside Dumfries and Galloway.
Now in its 16th edition, the festival describes itself as "one of the UK's best-loved literary events".