NHS Borders issues pain relief delay apology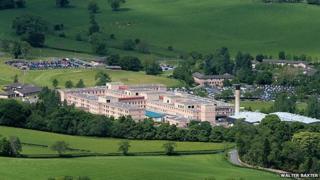 NHS Borders has issued an apology following a complaint that pain relief for a dying woman in the last hours of her life was delayed.
The Scottish Public Services Ombudsman upheld the complaint made by the patient's daughter over her mother's care at Borders General Hospital.
It made four recommendations in light of the issues raised.
A spokeswoman for NHS Borders said it accepted and had acted upon the recommendations made by the ombudsman.
The SPSO stated that the patient - named only as Mrs A - had suffered unnecessarily because staff failed to check or assess her condition despite family members reporting her distress to them.
It added that drugs that might have been provided some relief for Mrs A could have been given earlier.
The findings concluded that an apology should be given to the woman's family.