Robert Louis Stevenson celebration to aid Abbotsford House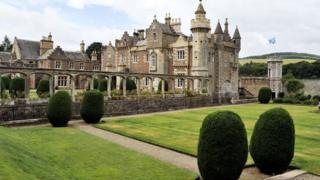 A special celebration of the life of Robert Louis Stevenson is to help preserve a legacy left by fellow author Sir Walter Scott.
Both writers were also lawyers and members of the Faculty of Advocates.
That organisation is staging a gala evening in November in Edinburgh including a contribution from modern day author Alexander McCall Smith.
The proceeds will be donated towards the upkeep of Scott's former home in the Borders, Abbotsford House.
Mr McCall Smith, also a member of the Faculty of Advocates, said: "I am particularly delighted to be part of the celebration of the work of Robert Louis Stevenson.
"That this celebration is taking place under the auspices of the Faculty of Advocates is very appropriate - literature and the law in Scotland have always enjoyed a very close relationship.
"Stevenson's life and work reminds us of that."
The faculty's long association with Scott and Abbotsford is maintained through the Faculty of Advocates Abbotsford Collection Trust.
It cares for the 9,000 books in the house's library as well as other items.