Riding school owner Robson Pereira jailed for sex offences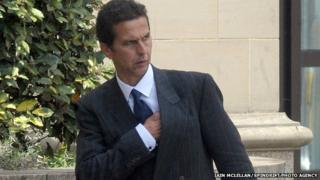 A riding school owner who helped disabled children before being unmasked as a dangerous serial sex offender has been jailed for 11 years.
Brazilian Robson Pereira, 50, ran the Kirkclaugh Stables at Gatehouse of Fleet in Dumfries and Galloway.
The High Court in Edinburgh heard he raped two women and sexually assaulted four others over eight years.
Judge Lord Malcolm told Pereira - who faces deportation when his sentence ends - that jail was the only option.
He told him: "It is clear that you exploited your position as the leader of a riding school and that you abused the trust placed in you as a person of standing in the community.
"It is clear that given the gravity of the offences of which you have been convicted, a substantial custodial sentence is justified."
Pereira, of Castle Douglas, was convicted last month at the High Court in Glasgow.
The charges ranged from inappropriately touching a woman by rubbing her leg to rape.
For years Pereira got away with the abuse and appeared to be a pillar of the community.
However, after one victim finally went to the police an investigation codenamed Operation Topcoat was launched.
All those who had contact with Pereira at the stables were quizzed and the truth came out.
He targeted his victims between February 2004 and July 2012.
Throughout his trial at the High Court in Glasgow Pereira claimed that his victims were telling a pack of lies.
Sex register
Defence advocate Simon Gilbride told the court that his client believed that he was innocent and had not done anything wrong.
He added: "There is nothing much I can usefully say on his behalf.
"He accepts a custodial sentence is inevitable.
"He will face deportation back to his homeland at the conclusion of his sentence."
Sentence had been deferred in order for the court to obtain reports about his character.
As well as jailing him, Lord Malcolm told Pereira that he would be placed on the sex offenders register for life.