Hawick councillor Alastair Cranston suspended over code breach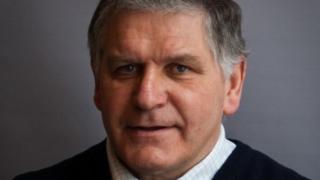 A Borders councillor has been suspended for three months after admitting "an error of judgement" and breaching the councillors' code of conduct.
SNP member Alastair Cranston debated and voted on an issue when he should have declared a business interest.
His suspension was confirmed after a hearing of the Standards Commission for Scotland at Scottish Borders Council's headquarters in Newtown St Boswells.
Mr Cranston accepted he had breached the councillors' code of conduct.
The panel said the businessman should have declared an interest and withdrawn from the room until the debate about rural recycling and renewable energy had concluded in December last year.
No gain
It found the 64-year-old former Scottish rugby international - who has represented the Hawick and Denholm ward since 2012 - had been involved in discussions about anaerobic biogas digestion, a gas-generating process in which his two companies specialise.
The hearing panel suspended him from all council, committee and sub committee meetings of Scottish Borders Council effective from 16 October for a period of three months.
After the verdict Mr Cranston said: "I now fully recognise that I should have declared an interest and not been present at a particular discussion in the meeting of the full council on 12 December 2013.
"I accept that I have breached the code of conduct as a result of an error in judgement.
"There was no intention in any of my actions to make a financial gain for myself personally or for my business."
A council spokesperson said: "This matter has been fully investigated through the appropriate channels and we note the decision of the Standards Commission for Scotland."