Recycling 'cabin' first for Borders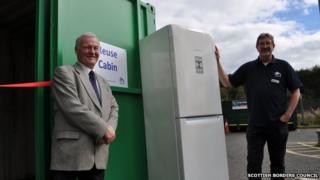 A first "reuse cabin" in the Borders to allow households to donate unwanted electrical items to disadvantaged people has opened in Selkirk.
The goods will be checked by charity Home Basics before being distributed throughout the region.
Scottish Borders Council's member for environmental services, David Paterson, said he was pleased with the move.
He said that if it proved to be a success the authority would look to extend it to other recycling centres.
Home Basics Business Manager Dennis Fisher said: "It is a brilliant idea.
"It not only helps in need people in the Borders but will also have a positive environmental impact.
"I hope the people of the Borders will give generously to support this scheme - it is a great opportunity."
Any items that are not in working order can continue to be recycled at the Borders six community recycling centres but not in the reuse cabin at Selkirk.