Red squirrel areas may escape squirrelpox virus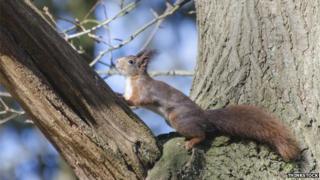 Research on the spread of squirrelpox has suggested that it may be possible to confine it to southern Scotland.
The virus, thought to have been brought to the UK by grey squirrels, has had a devastating effect on the population of the native red squirrel.
But research commissioned by Scottish Natural Heritage (SNH) has indicated that it could be kept out of areas dominated by reds.
These include the Highlands, Tayside, Argyll, Moray and Aberdeenshire.
Grey squirrels are less likely to thrive in woodland dominated by Sitka spruce and which has little beach or oak.
But researchers have warned that, without control of the grey squirrel population, the virus will continue to spread across areas where they live.
The study was carried out by Prof Andy White of Heriot-Watt University and ecological consultant Dr Peter Lurz.
They used mathematical techniques to represent the densities of red and grey squirrel populations and the spread of squirrelpox.
Prof White said: "Our work showed that it will be challenging to contain the squirrelpox virus in southern Scotland, where there is abundant woodland suited to grey squirrels.
"Without grey squirrel control, the virus will likely continue to spread across all areas where grey squirrels exist.
"Importantly, however, our research found that the virus is unlikely to spread through areas that only have red squirrel populations, which is great news for the red squirrels of the Highlands, parts of Tayside, Argyll, Moray and Aberdeenshire.
"The key will be to remain vigilant for grey squirrels trying to colonise these areas."
Population crashes
The research also looked at "stronghold" sites, where red squirrel populations survive in pockets surrounded by areas where the virus is present.
Prof White added: "Although red squirrel populations may experience occasional squirrelpox disease outbreaks that lead to localised population crashes, squirrelpox will 'burn-out' rapidly and some reds will avoid infection.
"The red squirrel populations will then return to pre-infection densities provided grey squirrels are kept at very low levels in these forests through on-going control."
SNH intends to use the results of the study to shape its policy on encouraging the red squirrel.
Its policy and advice director Ron Macdonald said: "Red squirrels were voted Scotland's second favourite animal in last year's Big 5 vote with many people regularly seeing them.
"However, they are under pressure from competition with grey squirrels and from squirrelpox which is spreading northwards.
"This report provides us with valuable information on how best to protect important populations of red squirrels in the face of the increasing spread of squirrelpox."