Borders to Edinburgh railway: Roadworks hit by fresh delay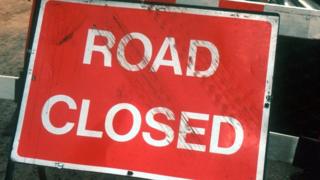 Roadworks in Galashiels ahead of the reopening of the Borders to Edinburgh railway are facing a fresh delay to their completion.
Winston Road has been shut for over a year and had been scheduled to reopen to drivers in September.
However, that first deadline was missed and it had been hoped it could open this week.
Now waterproofing work is running behind schedule so it will be at least another week before it reopens.
Network Rail apologised for the delay which it said was due to bad weather.
The works have required the excavation of "tonnes of material" which has lain under Winston Road for over 40 years.
It was in order to allow the new railway bed to be constructed at the right level and for a new road bridge to then be built over the railway.
The Borders to Edinburgh railway is scheduled to reopen in September next year.