Heavy rain causes severe flooding in Campbeltown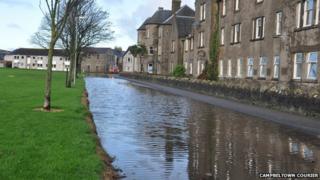 Emergency services have battled "the worst flooding in 30 years" in Campbeltown as heavy rain and high tides affect many parts of Scotland.
The Scottish Fire and Rescue Service (SFRS) said crews worked through the night to clear up to three feet (1m) of floodwater in parts of the Argyll town.
Elsewhere, flooding and a landslip have shut the A77 north of Cairnryan.
A yellow alert of rain remains in place for parts of Grampian, Central, Tayside and Fife.
The SFRS said crews were mobilised in Campbeltown at about 23:25 on Thursday.
Watch Manager Ronnie Souden, the incident commander, said: "This was some of the worst flooding I've seen in 30 years.
'Absolutely torrential'
"The rain was absolutely torrential and it coincided with high tide, which meant it wouldn't drain away.
"There were streets under three feet of water - it was up over car bonnets and there was actually a current so we had to be careful at all times.
"We constantly used pumps to clear the water but it was a constant battle against the tide. Some properties away from the flooded streets even had water coming up through the drains."
Mr Souden said the police, coastguard and local council deployed staff to help erect sandbags to divert the water and protect homes and businesses.
"Everyone was working absolutely flat-out through the night in horrible conditions to get the water shifted," he said.
"They were soaking wet but worked exceptionally hard and certainly prevented a lot more damage.
"As the tide slowly receded we managed to shift the water and anyone getting up to go to work at eight o'clock wouldn't have believed the scene a few hours earlier."
Once the water was cleared, fire crews left the scene at about 08:30 on Friday.
Elsewhere in Argyll, the A83 has now re-opened at the Rest and be Thankful under temporary traffic signals.
The road, which has been affected by landslides, was closed on Thursday amid safety concerns during a period of heavy rain. Traffic had been moving along the Old Military Road diversion route.
Three landslips
Flooding and a landslip shut the A77 north of Cairnryan. Ferry traffic faced a lengthy detour via the A75 and A713 but the normal diversion route on the A714 has also been affected.
Roads maintenance organisation Scotland TranServ said there had been three landslips on the A77 overnight.
It said it was hoped that repairs could be completed on Friday evening.
An inspection of the carriageway and drainage system has been carried out and specialist geotechnical engineers have assessed all three sites.
Russell Rennie, contract director for Scotland TranServ, said: "Our teams have been working hard throughout the day to clear the carriageway as quickly and as safely possible.
"I would like to thank the travelling public for their patience whilst this essential clear up operation is taking place."
Travel info
For the latest information on the situation on the roads visit the BBC's travel news page.
You can keep up to date with incidents and roadworks on the motorways here.
Around the country you can check for travel updates from:
Alternatively, for regular travel updates listen live to BBC Radio Scotland and follow @BBCTravelScot.
You can also follow the BBC Scotland severe weather Twitter list.
Below are a number of other traffic information sources.
Roads
Public Transport