Borders flood defence work hailed as Galashiels scheme opens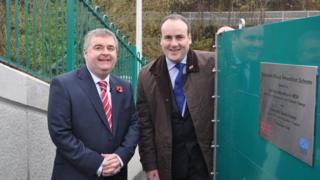 The leader of Scottish Borders Council has said the region's record in securing funding for flood prevention schemes is second to none.
David Parker was speaking after he officially opened a £3.6m project in Galashiels with Enviroment Minister Paul Wheelhouse.
The region has a number of projects at various stages of development.
Mr Parker said he was aware that the pace they progressed at could be frustrating but it could not be helped.
"It is unavoidable, unfortunately, flood schemes of this nature are very complex and they take around six to 10 years to design and go through the legal process," he said.
"There is a very rigid process laid down as to how you deliver these schemes and we have followed that."
'Extremely pleased'
He said he hoped more projects could secure support in years to come.
"We have been more successful than any other council in securing government funding to deliver schemes - we are delivering more than anywhere else," he said.
"I certainly think in the next few years we will be able to look at Hawick and deliver some there.
"It is very easy to prevent flooding in one place but cause it somewhere else and we have to work to make sure that we don't do that."
The Galashiels project, which started in October 2013, was 80% funded by the Scottish government.
Mr Wheelhouse said he had seen the "devastating" impact flooding could have and he was delighted to officially open the scheme.
"After much partnership planning and hard work, the completed scheme will protect 140 local properties from the effects of a flood of the Gala Water, including areas in the historic town centre," he said.
"I'm extremely pleased we have been able to provide funding to help this come to fruition and the investment underlines the positive future in prospect for the town, its residents and businesses."