Scottish Borders tourism spending and strategy outlined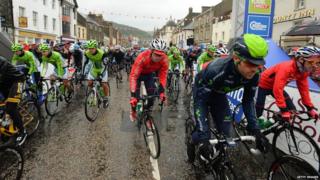 Tourism Minister Fergus Ewing has outlined action being taken to attract visitors to the Borders.
He was asked by Conservative MSP John Lamont what the Scottish government's strategy was for promoting and developing tourism in the region.
He cited £112,000 spent on Homecoming 2014 events and nearly £790,000 from EventScotland in the last three years.
Mr Ewing added that Abbotsford House, mountain biking and the Borders railway could also help attract more visitors.
He said that tourism had been identified as a "growth sector" and highlighted four events which were funded as part of Homecoming 2014.
Melrose Sevens - £20,000
Return to the Ridings - £37,000
Tweedlove Bike Festival - £35,000
Borders Book Festival - £20,000
He said VisitScotland listed more than 700 Borders businesses and operated information centres in Hawick, Melrose, Peebles, Jedburgh and Kelso with information points run in partnership in Eyemouth and Selkirk.
It had also supported a national campaign promoting Kelso Racecourse, the Jedburgh Events Forum and a mountain biking conference in Peebles.
In addition, he listed support given by EventScotland over the last thee years.
EventScotland funding for events in the Scottish Borders over past three years
Event
Year
Funding
Melrose Sevens
2011
£15,000
TweedLove Bike Week
2011
£12,500
Traquair Fair
2011
£5,637
Floors Massed Pipe Band Day
2011
£4,000
Doors Open Days*
2011
£13,500
Tour of Britain
2011
£100,000
Count Us In
2011
£8,630.99
Melrose Sevens
2012
£20,000
Traquair Shakespeare Festival
2012
£4,000
TweedLove Bike Festival
2012
£15,000
iXS Downhill Cup Innerleithen
2012
£9,900
Tour of Britain
2012
£105,000
Scottish Ploughing Championships
2012
£4,000
Melrose Sevens
2013
£20,000
Tour o' the Borders
2013
£8,000
TweedLove Bike Festival
2013
£15,000
Traquair Medieval Fayre
2013
£4,500
Jim Clark Rally
2013
£8,000
Dancing Dreams
2013
£10,000
Border Union Show
2013
£10,000
Traquair Fair
2013
£8,800
Tour of Britain
2013
£100,000
Scotland Sings*
2013
£6,000
Melrose Sevens
2014
£20,000
TweedLove Bike Festival
2014
£35,000
Return to the Ridings
2014
£37,000
Borders Book Festival
2014
£20,000
Haka Hawick
2014
£10,000
Generation*
2014
£150,000
Tour o' the Borders
2014
£10,000
Mr Ewing said Scottish Enterprise continued to work closely with partners to develop and promote tourism.
He said it had worked on the redevelopment of Abbotsford House and the establishment of the Mountain Bike Centre of Scotland at Glentress.
He added that the Borders Railway, due to open in September next year, would bring "real opportunity for tourism and other economic development".
Mr Ewing said a feasibility study announced earlier this year would look at how the service might "transform the tourism potential of the region".