Scotland-England border drink-drive advice issued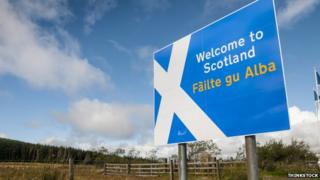 A health board has issued advice to motorists crossing from England into Scotland ahead of new drink-driving limits starting north of the border.
After approval by the Scottish Parliament, the legal level would be cut from 80mg to 50mg in every 100ml of blood on 5 December.
NHS Dumfries and Galloway said drivers could leave England under the limit but find they were over the Scottish limit.
It said the best advice was not to get behind the wheel at all after drinking.
Justice Secretary Kenny MacAskill set out plans to lower the alcohol limit earlier this year.
They could mean motorists crossing from Cumbria and Northumberland into Dumfries and Galloway or the Scottish Borders would find they were committing an offence despite setting off under the English limit.
A spokesperson for NHS Dumfries and Galloway said: "It is logically possible that a person could set off on a car journey in England while under the limit in that country and arrive in Scotland and be over the limit in this country.
"Although there are accepted average time frames for how quickly units of alcohol are metabolised there are a number of related factors which can affect blood alcohol levels such as age, weight and metabolism.
"Our best possible advice is that people should not drive after drinking at all as evidence suggests that a person's driving ability may still be impaired while their blood alcohol levels are below the current legal limit."
Awareness campaign
A major public information campaign is due to get under way next week to highlight all the implications of the new limit, including the cross-border impact.
Mr MacAskill told the justice committee recently that television adverts would go out on ITV Border which broadcasts to southern Scotland and northern England.
He said they would help to "raise the awareness of drivers who live close to the border and who might travel into Scotland each working day".
Policy officer Patrick Down told the committee a 10-day road show was also planned to "inform drivers and the wider public".
He said it would cover key locations which would include Dumfries and Galashiels.
The committee called on the Scottish government to ensure that adverts were placed at "strategic locations such as airports, railway stations and ferry terminals, in addition to signposting at the border".
It said that would ensure that people arriving in Scotland were "fully aware of the lower limit before considering whether to drive".