Borders to Edinburgh railway: Alex Salmond sets passenger goal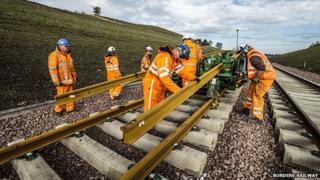 First Minister Alex Salmond has said one million passengers a year could be using the Borders to Edinburgh railway within five years of it reopening.
Track laying along the 30-mile route is currently ongoing with rail services scheduled to return in September 2015.
Speaking at Abbotsford House, near Melrose, Mr Salmond unveiled his vision of the line's future.
He said he believed one million passengers a year by 2020 was an achievable goal.
"Certainly it is ambitious but we have got to have ambition if this line is to have its big potential," he said.
He said the "likely estimate" of commuters using the route was about 650,000-a-year.
He said that an additional 350,000 visitors using the line to travel from Edinburgh through Midlothian to the Borders would make it the most successful scenic railway in the UK.
Mr Salmond added: "I think it can be that - in fact I think it can be the most successful in Europe.
"The Borders has unrivalled attractions, it is going to be the most gobsmackingly brilliant scenic line."