Reston and East Linton stations 'one step closer' to reopening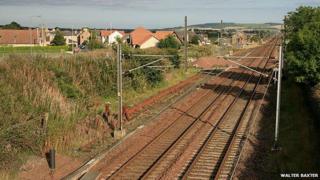 A south of Scotland MSP has said the reopening of stations at Reston in the Borders and East Linton in East Lothian is a "step closer".
The SNP's Paul Wheelhouse said services for the stops had been written into the next ScotRail franchise.
He said timings for stops at East Linton and Reston were part of the new planned timetable.
Mr Wheelhouse said that could mean trains running through both stations as soon as December 2016.
Both East Linton and Reston are on the railway line between Edinburgh and Berwick. The stations were closed after the Beeching report in 1964.
Earlier this year Dutch firm Abellio won the ScotRail franchise and will take over services from April next year.
Mr Wheelhouse said the fact that services to the two stations were included in that deal was the "surest sign yet" that the reopening of Reston and East Linton was a "step closer to reality".
He said the reopening of the stations could be of "enormous benefit" to the areas involved.
Transport Minister Keith Brown also said it was a "huge step forward".
"Scotland's railways are a driver for economic regeneration and can bring jobs, investment and new study and social opportunities for communities," he said.
He said the Scottish Stations Fund was now awaiting further details from the South East Scotland Regional Transport Partnership (SEStran) and East Lothian and Scottish Borders Councils for a funding application.
He is to meet with SEStran and the Rail Action Group, East of Scotland (RAGES) to hear how they are progressing those plans.
Lib Dem MSP for the south of Scotland, Jim Hume, has secured a debate in the Scottish Parliament on the subject for next week.
"Bringing a local Edinburgh/Berwick train service to Reston and East Linton would be a massive boost for travellers and tourism, something which has been shown in feasibility studies," he said.
He said he would be calling on Scottish ministers to look favourably on a bid for funding from the Scottish Stations Fund.
'Detailed timetable'
Conservative MSP John Lamont said he hoped a "detailed timetable" would be published soon but stressed that Scottish Borders Council should not be expected to commit more money to the project.
"The Scottish government has fully funded similar projects elsewhere in Scotland," he said.
"This project should be treated in exactly the same way."
Russell Imrie, who chairs SEStran, said the move fitted "very well" with its objectives of encouraging alternatives to car use, cutting greenhouse gases and supporting the economy.
"It also recognises the importance of the East Coast main line to the economy of Scotland," he added.
RAGES chairman Tom Thorburn described it as "terrific news" which would benefit a "whole range of people and businesses".
"It must be noted that we could not have achieved this great win for our area without the help and support of our members, MSPs, councillors, SEStran and East Lothian and Scottish Borders Councils," he said.