Mobile 'flood pod' launched in Newton Stewart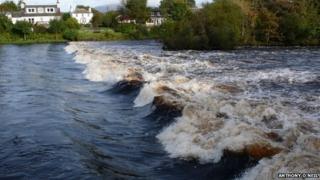 A mobile flood prevention unit has been unveiled in Newton Stewart.
The flood pod is a container filled with absorbent sand bags and expandable floodgates.
It has been put in place as a short-term measure to protect properties following major flooding in the town in November 2012.
Although the pod will be based in Newton Stewart, it will also be available to residential and business premises in the surrounding area.
Dumfries and Galloway Council said anyone who uses the unit will have the opportunity to take advantage of grant funding towards the purchase of their own flood prevention equipment.
During the flooding two years ago, the River Cree recorded its highest flow levels since records began in 1963.
A subsequent flood prevention survey ruled out upstream storage and the removal of a gravel island in the river, in favour of building defence walls and raising a footbridge.
The scheme, which is estimated to cost £3.4m, is subject to Scottish government funding.