Paramedic fractured neck in fatal Mennock road crash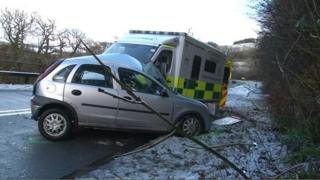 A paramedic injured in a fatal road accident in Dumfries and Galloway is being treated for a neck fracture and a head injury.
The 58-year-old man was working in the rear of an ambulance when it was in collision with a Vauxhall Corsa on Monday morning.
Zoe Clark, 24, of Carronbridge, near Thornhill, was killed in the accident, which happened in icy conditions.
The paramedic was airlifted to hospital from the scene of the crash on the A76.
The road between Dumfries and Kilmarnock, five miles south of Mennock, was closed for about seven hours while police carried out an accident investigation.
A Police Scotland spokesman said a 39-year-old paramedic who was driving the ambulance suffered a broken wrist in the crash.
The ambulance was leaving the scene of an earlier accident when it was involved in the second incident.
A female casualty and her husband, who were being carried in the back of the vehicle, were not further injured.
They were among a spate of crashes as the region was hit by wintery weather.