Borders cycling events £1.7m boost for local economy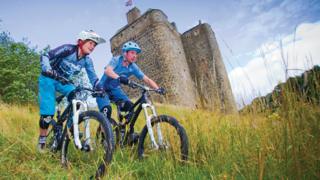 Two major cycling events in the Borders were a major boost to the local economy, according to a report.
Researchers found that TweedLove Bike Festival and the Tour O' The Borders generated a combined total of £1.7m.
Both events, which were based around Peebles, were organised by Hillside Outside, a local firm specialising in cycling and outdoor events.
They claim the town is fast gaining recognition as one of the UK's top cycling destinations.
Company director Neil Dalgleish said: "The events have been recognised as a success at an international level, and visitors have gone home very impressed with our bike trails and our incredible cycling community.
"There's something really special happening here."
The report by Frontline Research, which was commissioned by Scottish Borders Council, found that Tweedlove, held in May, had a direct economic impact of about £1.5m to the Scottish Borders.
Organisers claim it is the biggest cycling festival in the UK, with 40 events over three weeks.
The Tour O' The Borders, which was held in August, generated £191,836 for the region. It was the first closed road cycling event in the Borders, which attracted about 2,000 riders.
Councillor Stuart Bell said: "Not only do events such as Tour O' The Borders attract local, Scottish and UK cycling enthusiasts out for a day's ride but they also showcase our region as a top cycling destination for road cycling as well as mountain biking.
"These events project a strong message that the Scottish Borders is a great place to visit and have done."
Next year's Tweedlove will run from 17-13 May, while the Tour O' The Borders will be held on 9 August.