Dumfries hospital project gains approval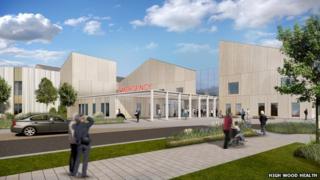 Proposals to develop a new £200m general hospital have received planning permission from councillors.
The project went to Dumfries and Galloway Council's planning committee which had been recommended to approve the application.
The planned 350-bed complex is earmarked to be built on farmland off the Garroch roundabout at the western end of the town's by-pass.
After lengthy debate, the council approved the planning application.
The local NHS authority has lined up the High Wood Health consortium as the preferred bidder for the works contract.
Six objections had been tabled highlighting concerns about increased traffic and road safety.
Now that the project has been given the go-ahead, construction is scheduled to begin next spring.
Jeff Ace, NHS Dumfries and Galloway's chief executive, said: "This is a major milestone which allows us to work towards financial close at the start of the new year, and paves the way for the start of construction scheduled for spring 2015.
"We have come a long way from the initial site selection of the green field site, on the outskirts of Dumfries.
"Since then an immense amount of hard work has been undertaken by the project team, advisers and our bidding partners to reach this point, and many of our staff have worked closely with them on the detail of the design."
Mr Ace said the NHS had a "shared vision" with contractors "not only for a new hospital for the people of Dumfries and Galloway, but to modernise healthcare services in our region".
"This will be a hospital built to the highest standard, making it fit for the needs of our patients, and to enable our staff to deliver the best possible care," he added.
'First-class facility'
Project director Dennis O'Keeffe described planning approval as a "significant step" towards bringing "ambitious plans for community benefits to fruition".
The news was also welcomed by High Wood Health's bid director David Hunter.
"It is a significant step representing the continued collaboration between High Wood Health, NHS Dumfries and Galloway and our project stakeholders to develop a solution that will create a first-class health facility and a lasting legacy," he said.
"With approval granted we can now focus completely on our next major milestone of financial close in early 2015, after which we can progress construction in earnest."