Jim Clark Rally organisers welcome government safety review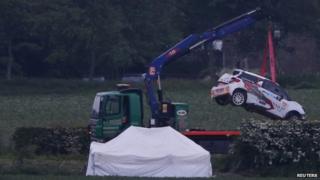 The organisers of the Jim Clark Rally have welcomed the conclusions of a Scottish government safety review of motor sports.
Three people died at the event in the Borders last year.
A marshal licensing scheme and improved communication with spectators were among a series of recommendations in the report.
The team behind the rally said much of it was already standard operating procedure.
A spokesman for the organisers said: "The report's conclusions and recommendations are broadly similar to the organising team's own suggestions and submissions to the review group.
"On that basis we accept it completely and already comply in many respects."
He added: "The organisers are also aware that the police investigation is still ongoing and are therefore unable to comment further."
Iain Provan, 64, Elizabeth Allan, 63, and Len Stern, 71, died on a stage of the rally near Coldstream.
In 2013 a spectator was also killed at the Snowman Rally in the Highlands. Joy Robson, 50, of Skye died and an eight-year-old boy was injured.
The safety review group was set up in the wake of the tragedies.
Its members included representatives of the motor sports industry, Police Scotland, and the Health and Safety Executive. Sir Jackie Stewart was an advisor.
The closed-roads rally around Duns and Kelso has been cancelled for 2015 while police complete their investigation.