Hawick councillors resign from administration over tapestry funding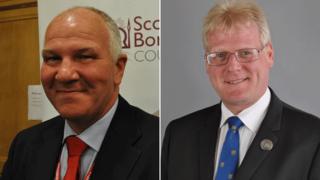 Two councillors have resigned from Scottish Borders Council's ruling administration following a vote on funding for the Great Tapestry of Scotland.
Watson McAteer and Stuart Marshall have stepped down from the Independent group.
They voted against spending £3.5m on a new building for the tapestry at Tweedbank.
Group leader Sandy Aitchison said he was "disappointed" with their decision.
The councillors, who both represent the Hawick and Denholm ward, said they felt pressure to tow a party line despite it being a free vote.
Mr McAteer, a former divisional police commander, said he wanted to be a "proper independent", without ties to a single group.
'Final nail'
"That [the tapestry vote] was the final nail," he said.
"It is the whole principle of being an independent and able to say and express what we need to do to support your ward and the Borders."
Mr Aitchison said he still hoped to persuade them to remain members of the Independent group.
"They will no longer be in the Independent group and no longer in the administration and their influence will be lessened as a result," he said.
The group leader added: "I consider both to have been valuable members of the Independent group. I am very disappointed that they have decided to leave us."