Lincolnshire man's sentence cut over Tweedsmuir death crash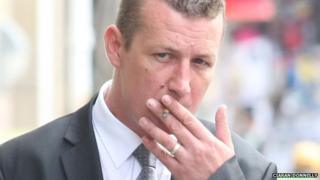 A Lincolnshire man who was jailed for killing a Canadian tourist in a crash in the Scottish Borders has had his sentence cut by appeal judges.
Andrew File, 42, of Sleaford, was given a three-year term after being convicted of causing death by careless driving.
A court heard he caused the death of Murielle Vaillant, 57, from Quebec, on the A701 near Tweedsmuir in May 2012.
Judges ruled three years in jail was excessive and reduced his sentence to two years.
His car veered onto the wrong side of the road and struck a Peugeot car being driven by 61-year-old businessman Louis Vaillant. The collision caused Mrs Vaillant to die at the scene.
On Tuesday, judges Lord Bracadale and Lord Menzies reduced File's sentence to two years at the Court of Criminal Appeal in Edinburgh.
His legal team were appealing against the sentence imposed at Glasgow High Court.
The judges ruled that the three-year sentence was excessive for the charge of causing death by careless driving. They thought a two-year sentence was more appropriate.
Delivering the appeal court's verdict, Lord Bracadale said: "We are satisfied that the length of the sentence was excessive."
File was convicted of causing death by careless driving at the High Court in Edinburgh. Sentence was deferred to the High Court in Glasgow.
He originally faced a charge of causing death by dangerous driving, but a jury convicted him of the lesser charge.
File was travelling to Scotland in a Dodge Caliber when the crash took place.
Mr Vaillant, a businessman who lives near Ottawa, was driving south with his wife of 35 years after a visit to St Andrews, Fife.
On Tuesday, solicitor advocate Simon Collins argued that sentencing guidelines for the offence File was convicted of meant that Lady Rae was wrong to impose three years.
Mr Collins added: "There is no doubt that this was a tragic incident for all concerned.
"However, a three year sentence is excessive."
Lords Menzies and Bracadale agreed and ruled that File should only serve two years inside.