Runner rescued in Galloway hills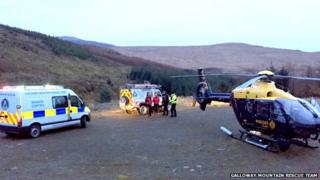 A fell runner and his dog have been rescued from the Galloway hills after becoming disorientated with stormy weather closing in.
Galloway Mountain Rescue Team (GMRT) was called out to the incident on the Merrick at about 15:20 on Thursday.
The experienced runner from Ayrshire could not make his way off the hill and called the police.
A Police Scotland helicopter was sent to the scene and the man was located and driven back to his car.
GMRT leader Ken Mackenzie, who led the rescue, said: "Given the fact that darkness was quickly approaching, and very stormy weather was forecast for the following 36 hours, the runner was quite right in contacting us as soon as he realised he couldn't navigate himself off the hill.
"This is the second successful rescue we've now completed with the Police Scotland helicopter and it's proving to be an extremely helpful asset."